FITTED WARDROBES LIVERPOOL
Maximise on space by creating bespoke fitted wardrobes tailored to fit your bedroom with the Cleveland Bespoke modular bedroom system. Our unique system can be tailor made to fit any size opening or fill any space. With our in-house manufacturing capabilities, we can custom make a piece of bedroom furniture to any width, depth and height meaning we can create a piece of furniture that is completely bespoke to you and your new bedroom.
Internally we can create your dream wardrobe layout including any number of shelves, hangers, drawers, pull outs, baskets, tie-racks, shoe-racks and more. Our modular system has been created out of years of working with our customers and can be completely designed to your individual needs and taste. There really is no limit to what you can have inside your new wardrobe.
If you want a super modern sleek look to your new bedroom we can build drawers into your wardrobe to remove the need to have drawers on display. Alternatively, if you are looking for a more traditional look we can supply your new wardrobe set with a matching set of drawers and side cabinets to be fitted into your new room ensuring everything will match perfectly.
Externally we have many different finishes that can be combined to create the look that you desire. Our door types include slab, shaker, panel, mirror and more all of which come in various finishes including vinyl, painted, wood effect, real wood, gloss and much more. All of our door styles can be fitted with a range of different handles to further customise your new fitted furniture. We have a new range of handles-less wardrobe doors which come in various design and can be ideal in bedrooms that are tight on space as the doors take up less space within the room when closed.
Take a look through some examples of what can be achieved with our fitted bedroom range
Cabinet lighting is also becoming a popular choice to be included as part of a bedroom makeover. We have a wide range of options available for both internal and external lighting to be attached to your bedroom wardrobes and cabinets. Reading lighting, accent lighting and internal wardrobe lighting are all popular choices amongst our clients. All of our lighting is usually LED lighting to ensure your new wardrobe is eco-friendly.
When supply a new fitted wardrobe we complete an on-site survey to get exact measurements of the room making a note of any obstructions or unusual shapes that could affect the wardrobe. When manufacturing the wardrobe this enables us to make a completely custom set of wardrobes that is bespoke to your personal space. We make all of the cuts and assemble as much as possible at our manufacturing plant. This will reduce the amount of work required by our installation teams not only saving you money but also reducing the amount of time required on site ensuring a quick and clean installation.<
If you are looking for some new bedroom furniture but not exactly sure what you want, one of our design team can visit you at your property and discuss the options available as well as show you some example bedrooms. During this visit we will take a technical measure of your bedroom and then supply a 3D rendering of what your new bedroom could look like based on the design meeting, as well as supplying a cost breakdown and various customisable options. This unique service is completely free of charge with no obligation to proceed. Take a look at some of the examples below to get some inspiration for your new space.
Internal Fitments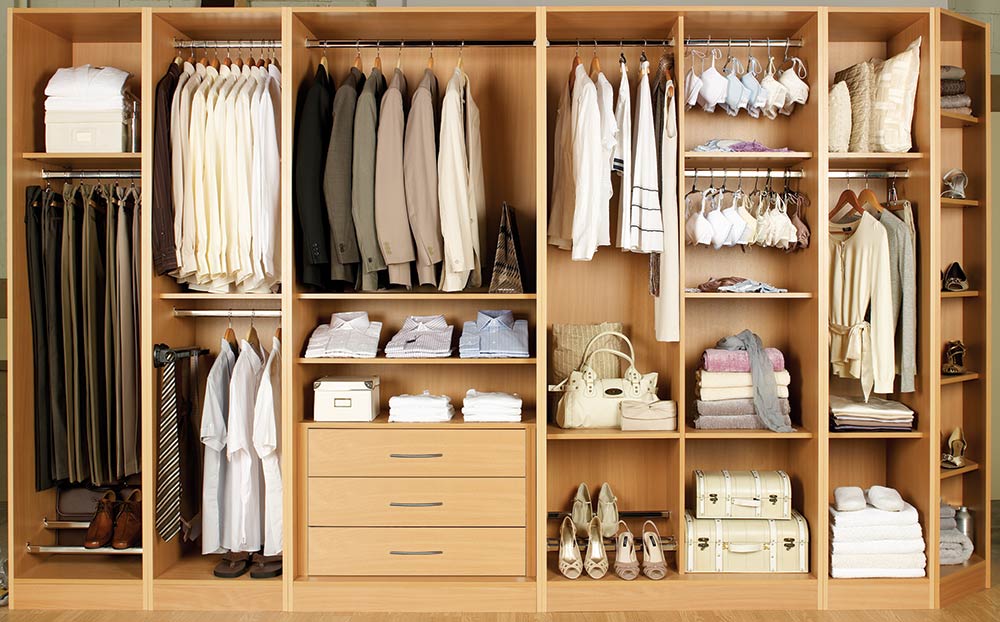 All of our wardrobes have completely customisable internals. From the style to the design, we can personalise the inside of your wardrobe to suit you. There are lots of different choices when it come to design, from plain white in matt or gloss to a wood effect pattern and much more.
The layout of all wardrobe internals is also completely customisable including shelves, rails, drawers and even custom storage solutions for your own unique items such as watches, cufflinks and other specialist items. All internal fitments can be made to any size and set to any height, for example you may have one section with just two shelves set 600mm apart and you could have another section with 10 shelves set 150mm apart.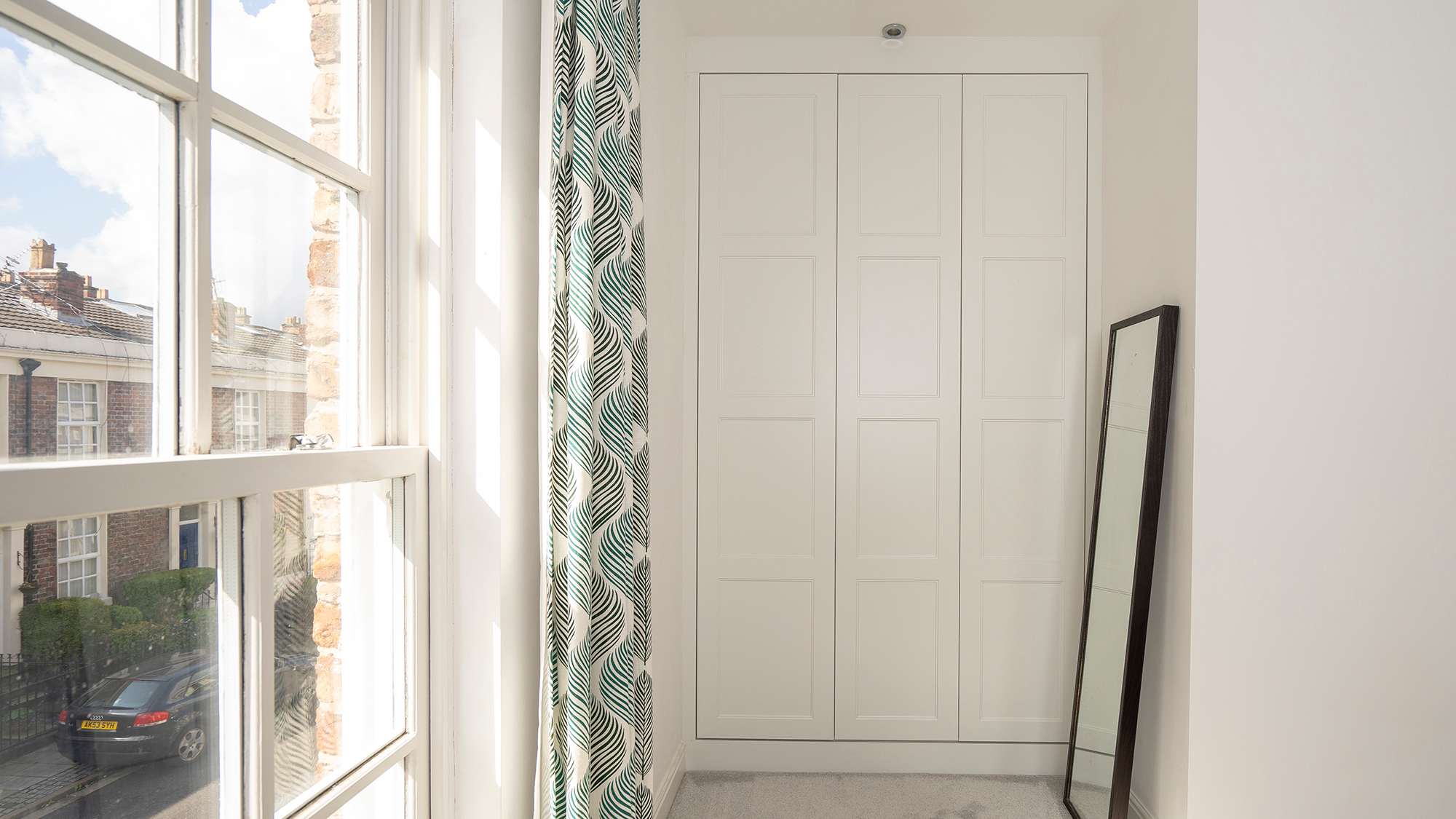 Shaker Wardrobes, Liverpool
Situated in the heart of Liverpool, our clients wanted an all-white shaker wardrobe to fit an alcove space in their home perfectly. We manufactured the wardrobe to fit within the space perfectly and boxed the wardrobe in with filler panels with equal depth on both sides, which gives the wardrobe a high-end fit and finish.
VIEW THE PROJECT
White fitted wardrobes, Liverpool
White shaker fitted wardrobes supplied and installed to complete this freshly renovated bedroom in Liverpool. We where able to create a set of wardrobes that completely filled the space from floor to ceiling and wall to wall, something which was important to the client.
VIEW THE PROJECT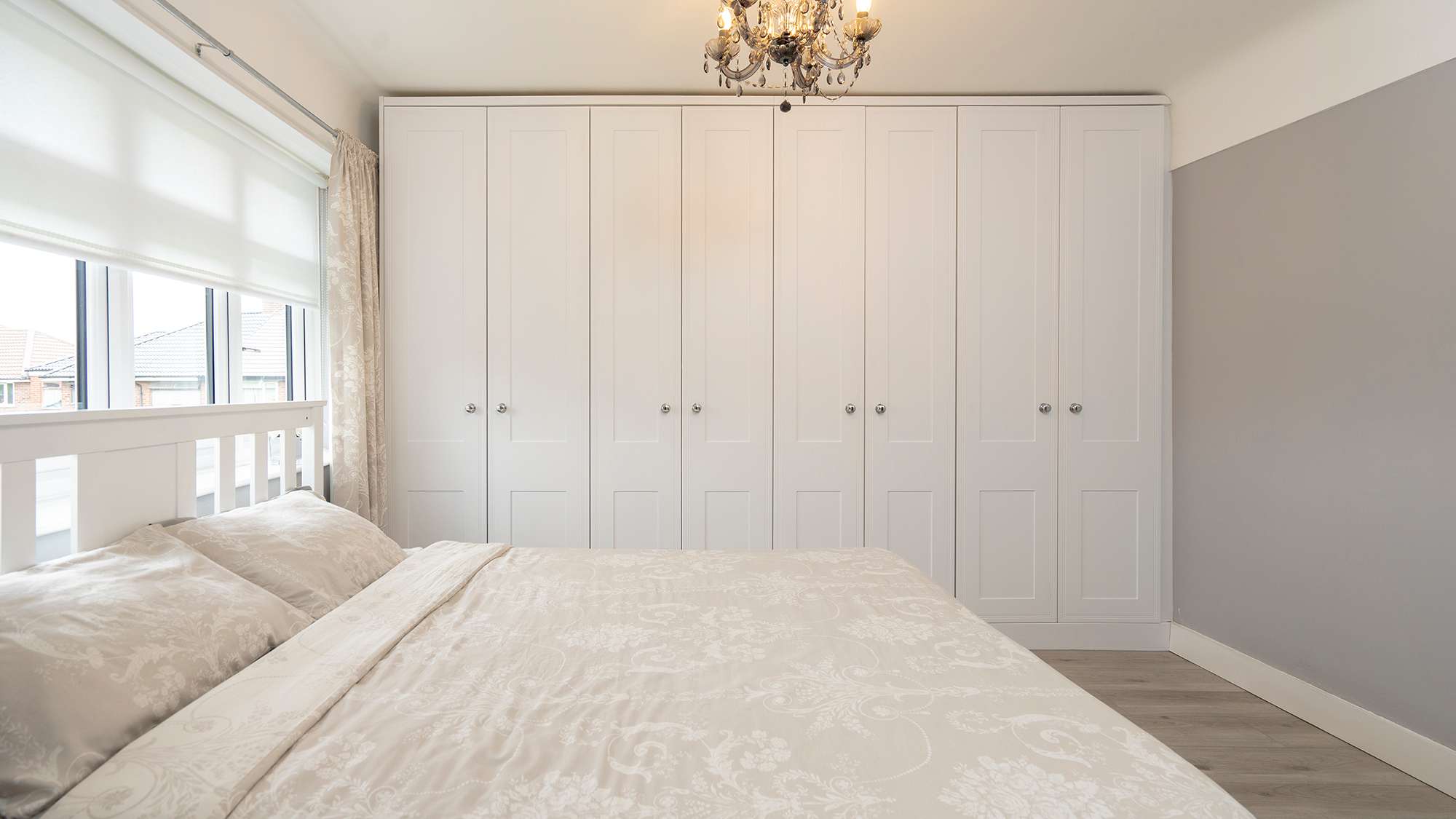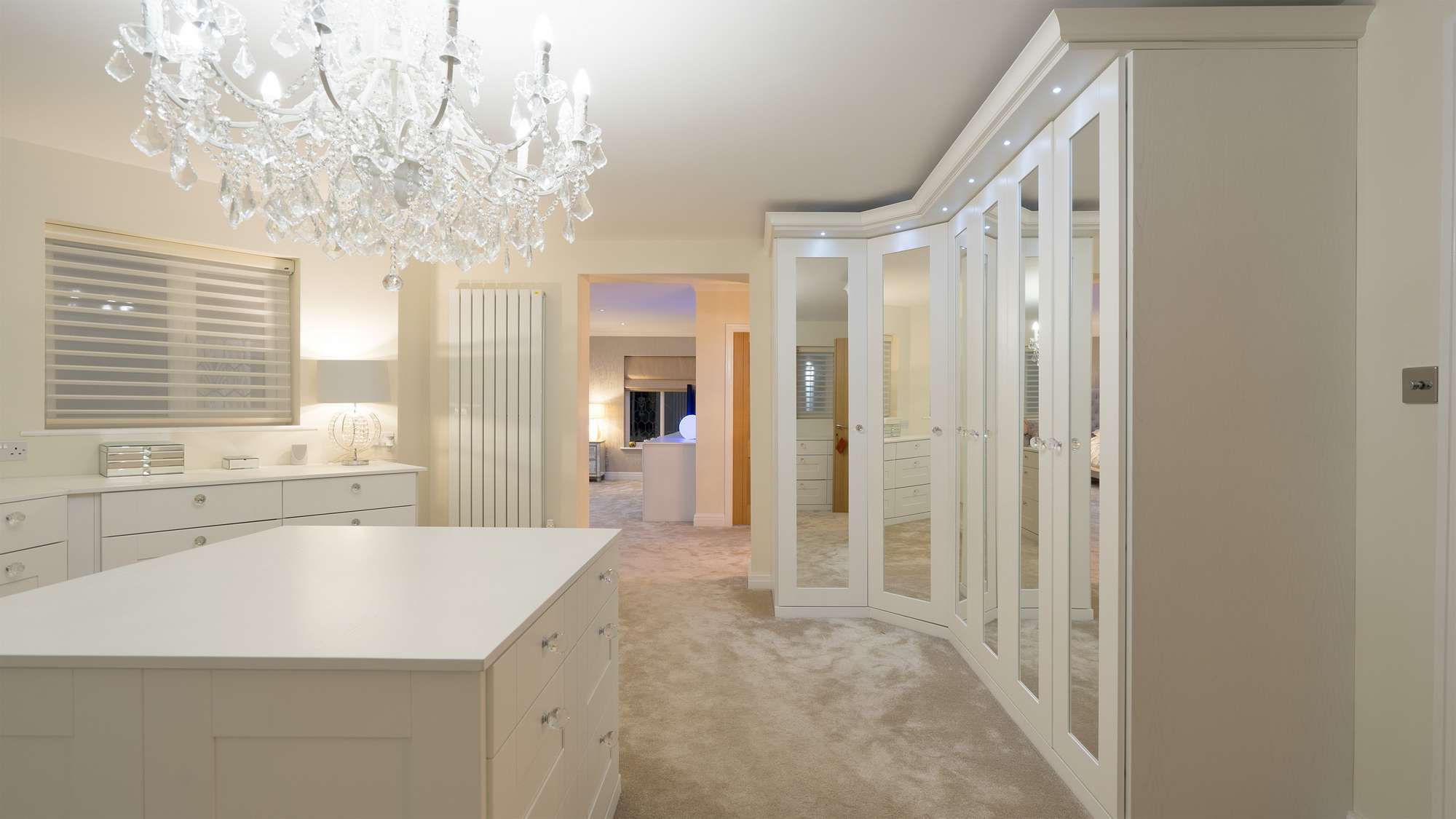 White shaker fitted wardrobes, Liverpool
Design, supply and installation of a complete range of bedroom furniture including full height mirrored wardrobes with feature lighting, lots of drawer units and a custom seating area. The wardrobes have a shaker style door with the central panel fitted with a mirror and a decorative plinth running along the top of the wardrobe. All furniture has been professionally fitted, with all end panels cut adn scribed into the exisitng walls to give a seamless finish.
VIEW THE PROJECT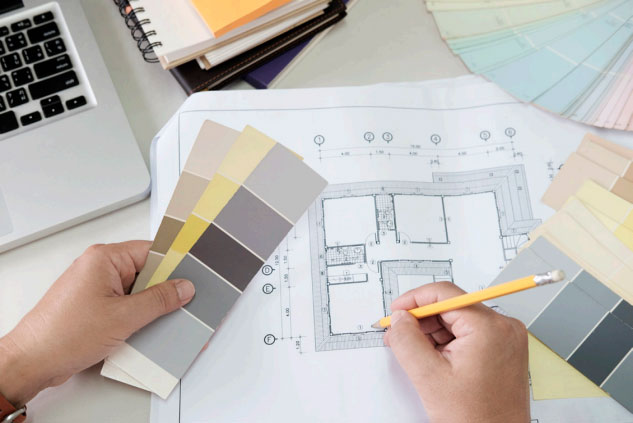 Book Appointment
Iif you would like to book a free, no obligation consultation and 3D design service, please complete the form below and a member of our sales team will contact you shortly.