Handle-less Kitchens
Over the past few years we have seen a big rise in the demand for handle-less kitchens due to the desire for minimalist kitchen design. Handle-less kitchens give a modern minimalist look to any kitchen and can be combined with a range of different worktops to achieve different overall styles. Most of our Handle-less door range are supplied in a painted finish as we are able to supply a far superior door over other manufacturing methods.
Take a look at some of our Handle-less Kitchen designs
Handle-less Kitchen doors types
There are two main types of doors types we think of when it comes to Handle-less kitchens which include:
J Handle
As the title suggests, the J Handle is when the top of the door is routed to generate a handle grip, creating a "handle-less" letter J effect. Due to its sleek streamlined flow, J Handles have rapidly become one of our most popular designs. The design is particularly popular amongst our customers with restricted space, as there are no handles taking up any room. This effect also means that this design is particularly easy-cleaning. Our high gloss J Handles predominantly a painted lacquered finish. The colour range for the J Handle starts with white creams through to metallic anthracite dark grey. We recommend our range of minimalist worktops to suit this design for a contemporary designer look.
True Handle-less
We also do a true handle-less range which is where an aluminium rail is routed into the cabinetry leaving a space to fit your hand into the cabinet and behind the door to open it. The doors are similar to slab doors although they are slightly shorter than standard doors to allow a gap on the opening side. True handle-less door are our top of the range offering for handle-less kitchens and in our opinion offer the nicest look as well as the hardest wearing solution as it removed the need for a rebate in the door itself.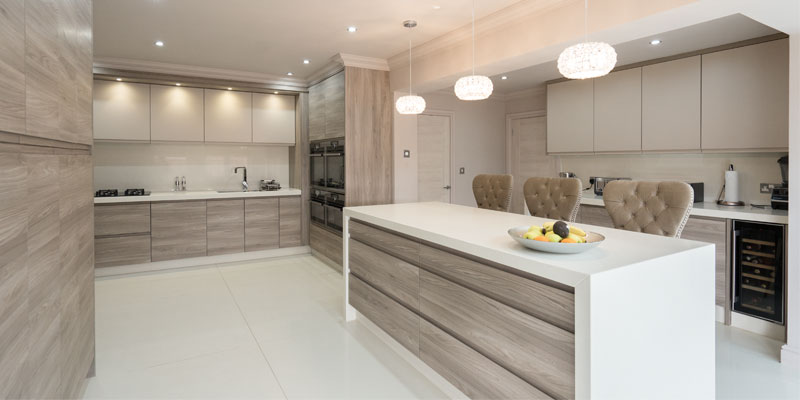 Walnut Handleless Kitchen Liverpool
WOW, this kitchen has it all and more lots of space for dining and entertaining as well as an abundance of storage, lots of appliances and a high end fit and finish from our designer kitchen range.
VIEW THE PROJECT
Cream Handleless, Wavertree
Matt cream handle-less kitchen with oak woodblock worktops and central island. Designed and built to the customers exact specification. This kitchen is part of a brand new open plan extension with bi-folding doors and roof lantern.
VIEW THE PROJECT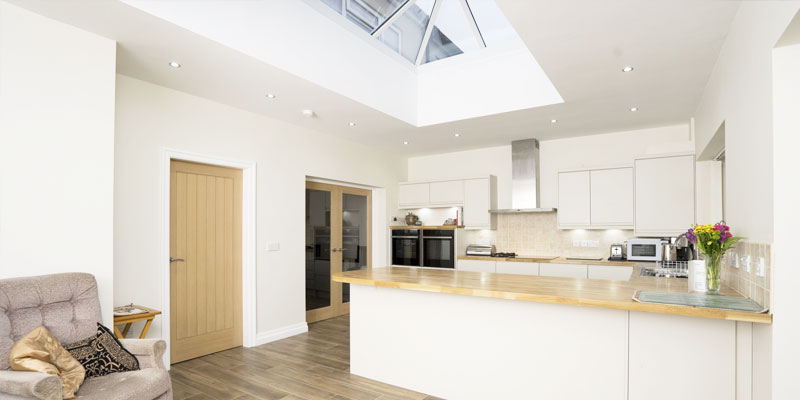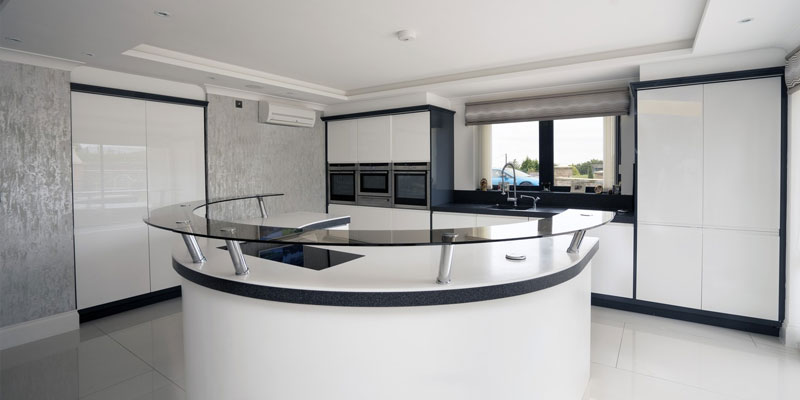 Handleless Kitchen, Liverpool
Gloss white designer kitchen designed and supplied to our customer in Liverpool. THe kitchen features bespoke Corian doors and worktops throughout. Bespoke island with stand off counter perfect for serving food and entertaining.
VIEW THE PROJECT
Cream Gloss Kitchen, Kirkby
Open plan kitchen created by knocking two smaller rooms together to create a larger space. We supplied and installed a brand new gloss cream kitchen with built in appliances and contrasting worktops.
VIEW THE PROJECT