Cleveland Kitchens Liverpool
We have been manufacturing and installing quality laminate and timber kitchens and bedrooms throughout the North West since 1985.
Through our national and international partnerships with companies such as Neff, Bosch, Baumatic, Miele, Blum, JJ Ormerod, Hills panels and Uform we can offer the best available products to homes and businesses throughout the North West of England and the wider UK.
Our Kirkby showroom contains a wide selection of our product ranges and samples for you to browse through and try out. In our showroom we have working installation examples of our bespoke premium products as well as our cost effective but still excellent quality budget ranges
Select one of our kitchen ranges to get started
Learn more about our different door styles

Cleveland Bespoke system
With our wealth of experience in designing, installing and manufacturing kitchens for over 30 years we have developed our own system, developed to simplify the kitchen instalment process. We have partnered with a number of different companies throughout the UK to enable us to supply and install any type of kitchen quickly and efficiently with minimal disruption to the client. Our own range, Cleveland Bespoke, came about as we want to give every client their dream kitchen, and our focus is on design first with cost second. We have such a huge range of products on offer that we can customise a kitchen style to suit any budget.
Once we have worked out the layout of your new kitchen, design style and budget we will create a 3D plan for you and select doors, cabinets, worktops and appliances from our Cleveland Bespoke range which will suit your style and come in on budget. We have a huge range of all kitchen components within our range giving us the flexibility to create an end product that is tailored towards your budget.
Once we have created an example layout and picked the initial kitchen components such as door type, worktop and appliances, we can provide you with a clear view of the basic cost of your new kitchen. This is only a guide and then can be further altered by yourself with complete flexibility to change the colours, design and layout. Any changes can be altered on your design by our in house design team and of course, a revised price will be provided.
The Cleveland Bespoke service is completely tailored to each customer and has been developed by ourselves to give the customer the best possible experience.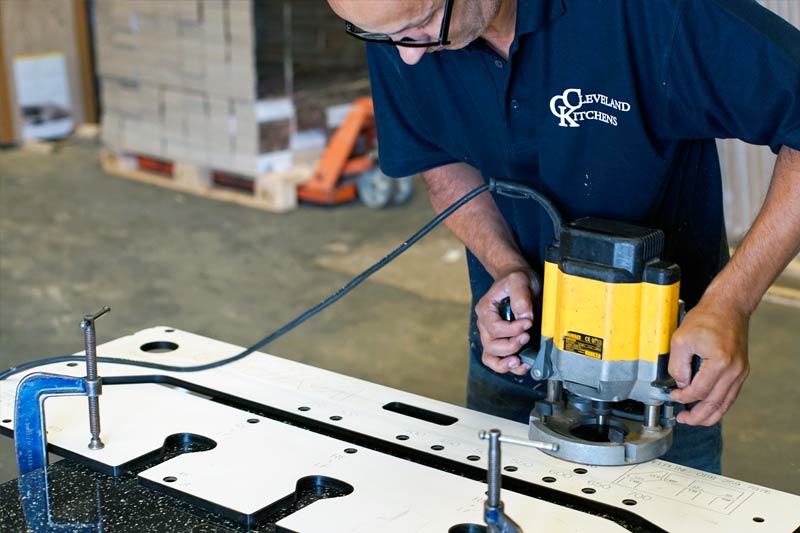 WORKTOP CENTER
Our worktop centre is made up of a specialist team with a background in cabinet making. With a huge amount of knowledge and experience of worktops we can make all of the complicated cuts in your workshop, delivering the worktop ready to fit.

Whether you are just looking to replace your worktops or full kitchen we offer a complete design and cutting service for your new worktop. Our experienced design team will work closely with our workshop staff to ensure your order is processed quickly and accurately.

We offer a full in house design 3D service and our team work closely with many home and business owners to design and complete projects. If preferred we can also work directly with your existing Architect or Builder.
CLEVELAND BESPOKE - CARCASS
All of our kitchen and bedroom carcasses are manufactured from scratch in our Liverpool based workshop. We manufacture our own carcasses to be a higher standard than those found on the high street.

The main difference is the front edge of the carcass, all our carcasses are lipped with a 3mm thick edge banding which is much thicker than standard.

One of the other main benefits to manufacturing our own cabinets is the ability for us to make a unique cabinet for you. Some kitchens require a uniquely sized cabinet or a cabinet that can fit around an unusual shaped object such as a pillar. Making adjustments to cabinets on site is not only time consuming but also weakens the cabinet, both of these issues can be resolved within our factory before the kitchen is delivered on site.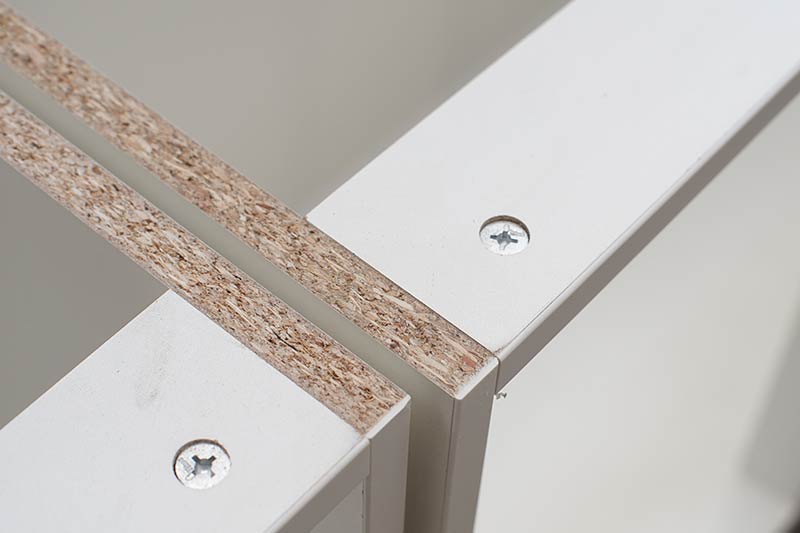 We are available via phone Monday to Saturday on 0151 549 8310 for advice, information, quotations and queries. Alternatively you may wish to request a call back using our online form and we'll call you. An out of hours appointment can also be arranged either at the showroom or on site to suit the customers needs.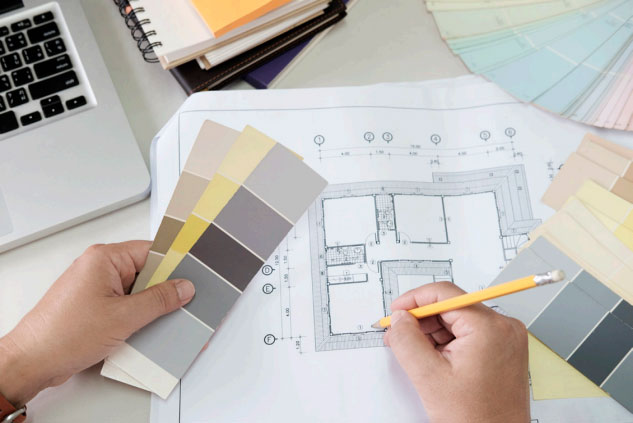 Book Appointment
Iif you would like to book a free, no obligation consultation and 3D design service, please complete the form below and a member of our sales team will contact you shortly.