Slab Kitchen Doors
Over the past few years we have supplied and fitted thousands of slab door kitchens and its not hard to understand why. A completely versatile product that is easy to maintain and a perfect fit for busy family life. Our slab doors come in a massive range of colours and finishes and can be combined with hundreds of handles and worktops giving you complete control over the style of your new kitchen.
Our slab doors range comes in many different finishes including Vinyl, painted, 3d EDGE, timber and various foil finishes. With such a large range we can supply kitchens to suit all budgets while still offering complete flexibility of style. We have several slab door kitchens on display in our Kirkby showroom as well as a large range of sample doors in various colours. Both sleek-stainless and coloured appliances are a great way of complimenting and contrasting with this range. 
We offer a free no-obligation home visit and kitchen design service that is essential for this style of kitchen giving us a take on the natural lighting available for your new kitchen, which will become relevant to your colour choice. Our in house design team will design a 3D plan of your new kitchen once you have had a meeting with one of our sales team to give you an idea of what your new kitchen could look like.
Take a look through some examples of our slab kitchen designs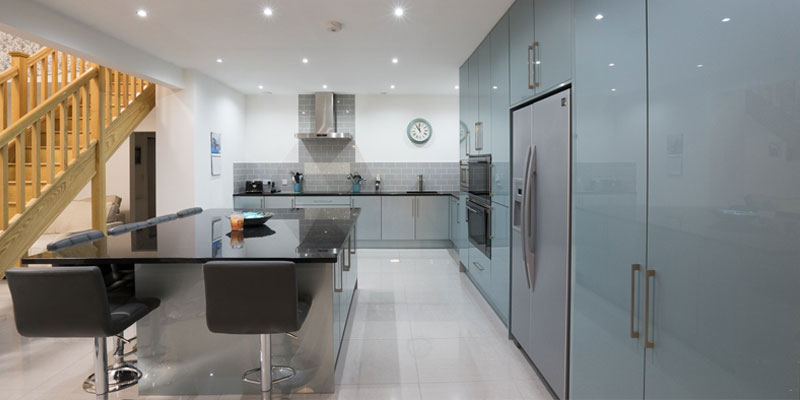 Blue gloss slab kitchen, Liverpool
Large blue high gloss kitchen with ceramic edging, large central island for dining and entertaining. The floor to ceiling cupboards give lots of storage and house all the neccessary appliances including the large fridge freezer and ovens.
VIEW THE PROJECT
Grey gloss kitchen, Kirkby
Installation of a brand new grey gloss slab kitchen with built in appliances and american fridge freezer. The kitchen is part of a large open plan living space and the long island creates the perfect separation of the kitchen and living area.
VIEW THE PROJECT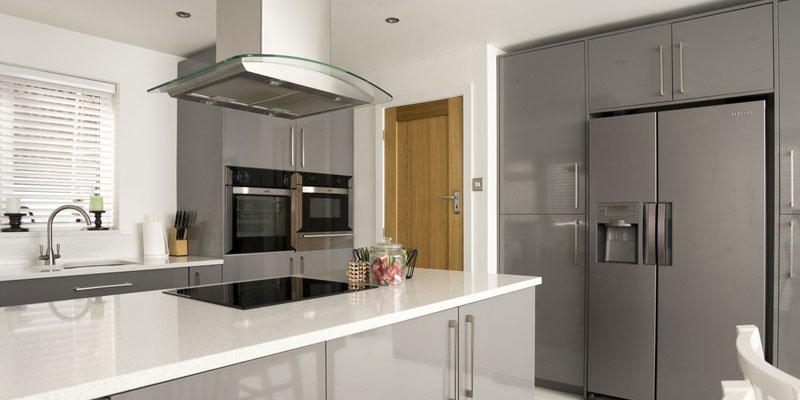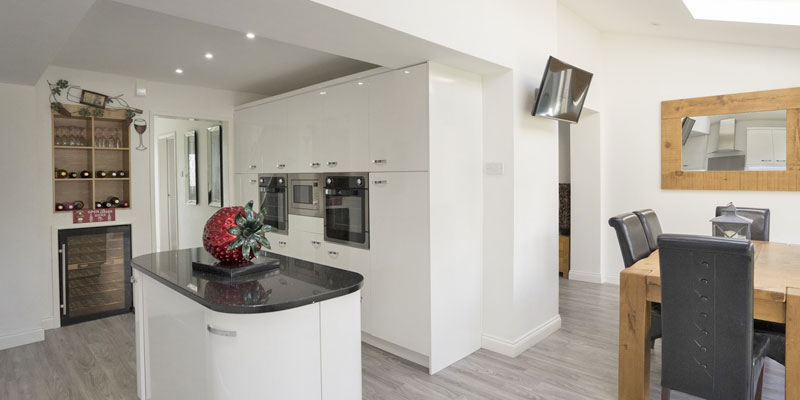 White gloss kitchen
Classic white gloss slab kitchen with black granite worktops and chrome handles. Throughout the kitchen curved doors have been used to soften the corner and help this kitchen flow in this stunning open plan family space.
VIEW THE PROJECT